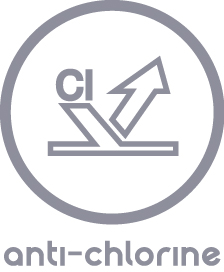 FZ/T 73013-2010
Aqualife PBT (Polybutylene terephthalate) fabric offers a breakthrough in Chlorine proof swimwear, providing Chlorine resistance without compromising on elasticity and wearability. This sublimation base dries quickly and is pleasant to wear, along with the fact that prolonged contact with Chlorine does not cause Aqualife to lose its elasticity, which frequently occurs in classic Elastane fabrics. The perfect solution for a high quality sublimation base, with the ultimate performance in chlorine resistance.
High quality Italian Polyester and PBT (Polybutylene terephthalate) blend stocked in solid colours. An Elastane free fabric that's ideal for high performance and club swimwear, or any garment which is exposed to high levels of Chlorine thanks to its 100% Chlorine resistance. This fabric has a 2 way stretch and its soft feel and perfect wearability also make it the right choice for performance swimwear.
FZ/T 73013-2010. Tensile recovery after stretch- Resistance to chlorinated water PASS.
Swimming wear fabric chlorine resistant samples , click to learn more.